QuavStreams is a SaaS (Software as a Service) video streaming platform for low-latency multimedia distribution of live and on-demand videos over the Internet. It can manage the encoding and large-scale distribution of videos of resolution up to 4K and 8K Ultra High Definition. It also integrates a native web conferencing system which enables real-time communications within a single, fully integrated video solution. QuavStreams is a modular platform that can be tailored to fit your needs, whether this means creating your WebTV video portal, or delivering live events and webinars to your audience, or enabling video-communications among your employees, please contact us and we'll be happy to help with any video requirement that you may have.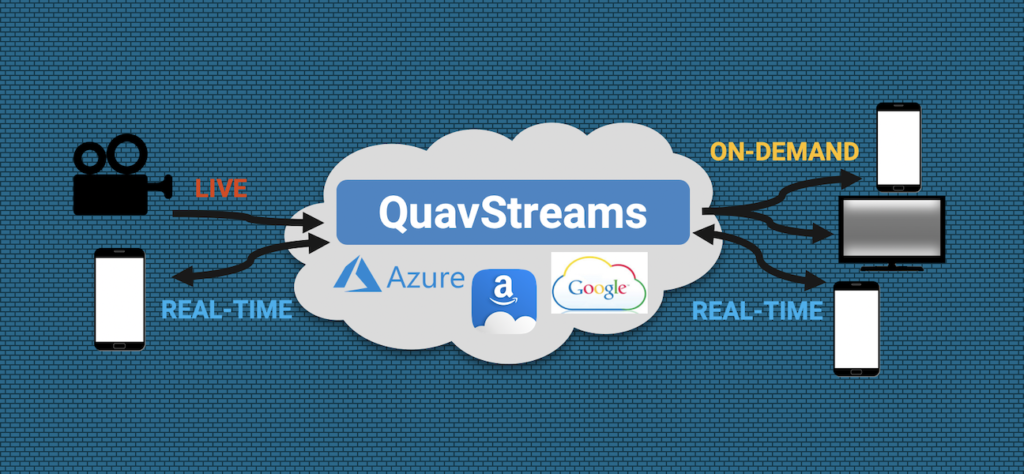 Upload, manage and publish your media for live and on-demand consumption.

Stream everywhere, to any device, and reach your audience.

Enable real-time communications among the users for video conferencing and more.

Under-the-hood optimizations for immersive 360° panoramic content.

Flexible installation, with On-Cloud and On-Premise options.

It's the perfect video platform for educational institutions and e-learning systems. See the use cases below.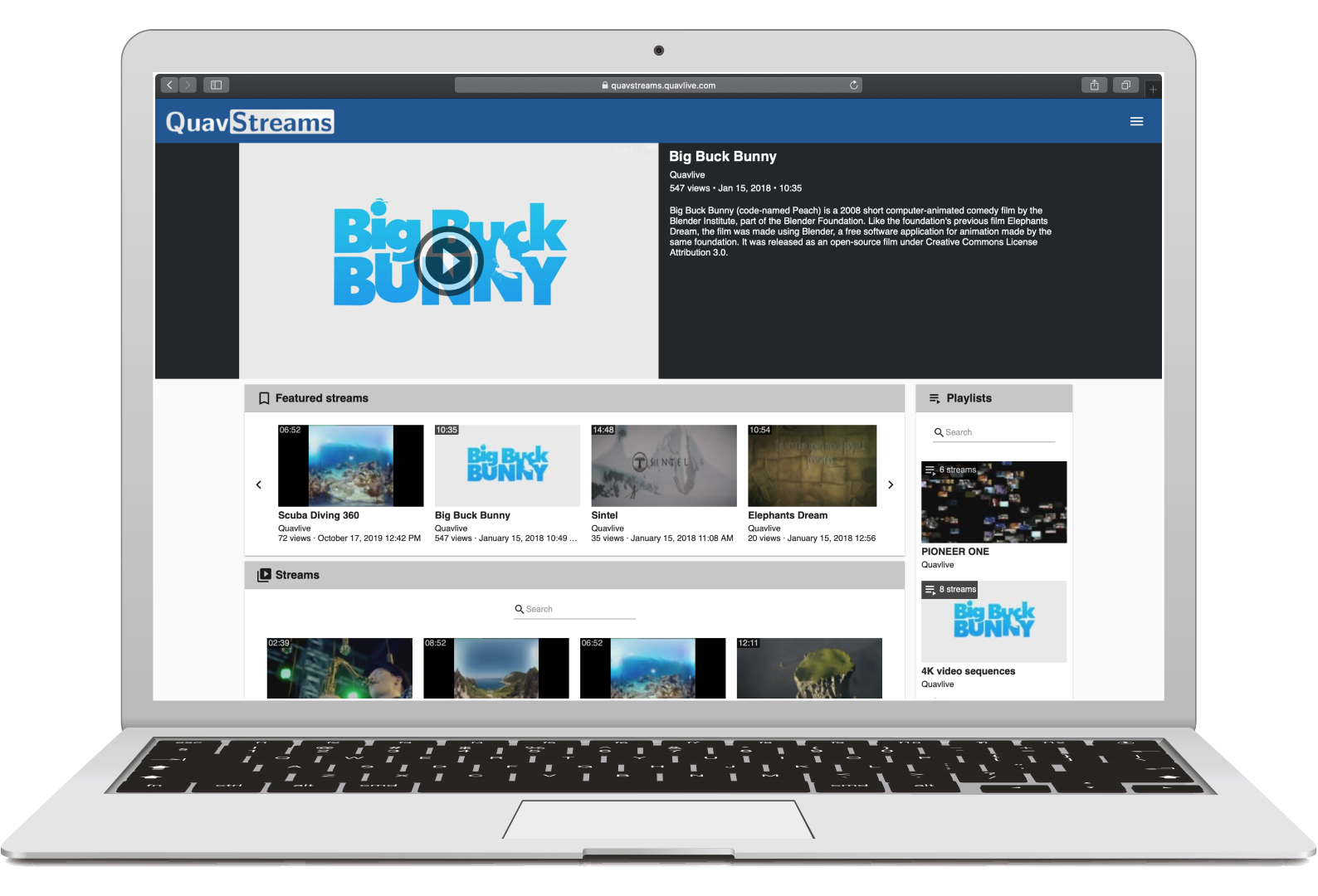 Get your own video portal, shaped around your company or institution.

Curate a collection of exclusive content like lectures, seminars, events, tutorials.

Embed your videos on social media or share directly from the portal.

Customize colors and logo for brand recognition.

Responsive and mobile friendly web UI.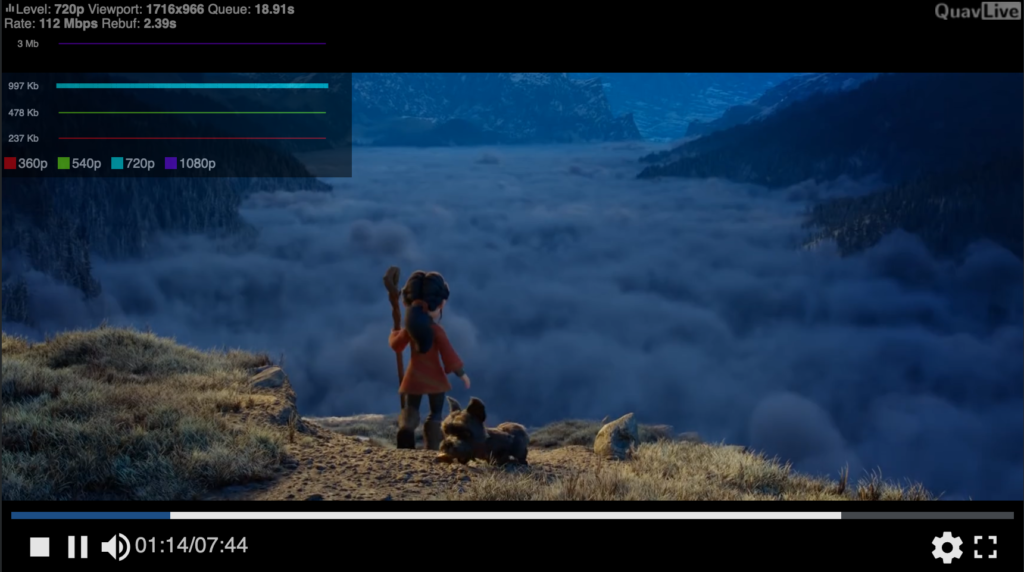 QuavPlayer is an innovative and multi-purpose adaptive video player.

Embed your videos on your website or on social media.

Let the player choose the best quality for the content, or select it yourself.

Get instant access to video stats, like the current quality and the amount of buffer.

Customizability options, including the colors and the watermark.

Full compatibility with HTML5 web browsers, no external plugins required.

Support for panoramic 360° content and immersive Virtual Reality.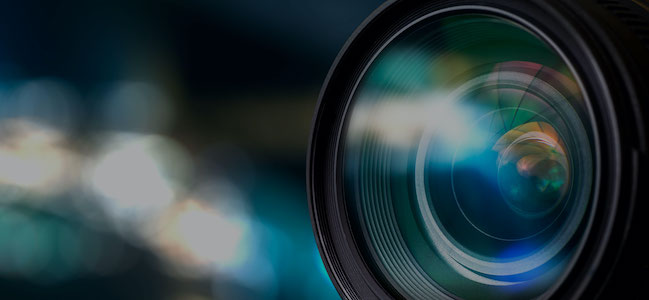 Stream your live events such as conferences, seminars, lectures, concerts.

Check out viewing stats in real time.

Compatible with OBS and other popular broadcasting softwares.

Flawless integration with

QuavBox

video encoder.

Consult us for ad-hoc suggestions on specific use cases, system dimensioning, and recommended hardware if needed.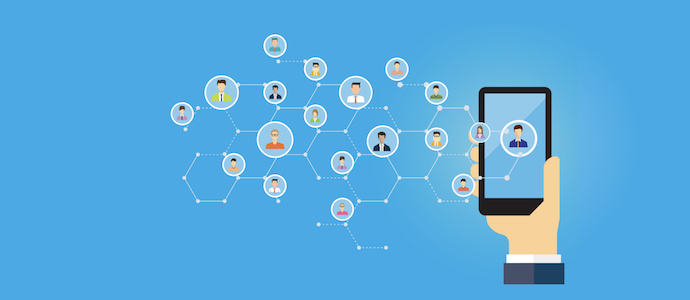 Instant audio and video communications powered by WebRTC.

Easy web conferencing right in the browser, no need for third-party softwares or plugins.

Run exclusive webinars and let your participants intervene and ask questions through real-time video streaming.

Broadcast live events at scale with sub-second delay.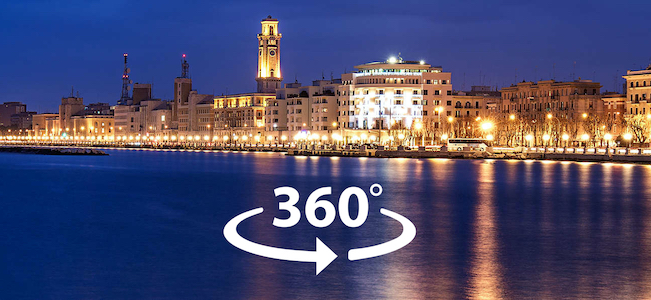 Stream high-quality 360-degree panoramic videos.

Advanced multi-viewpoint encoding and multi-camera switching.

Under-the-hood optimizations for low bandwidth consumption.

Seamless video viewing experience thanks to QuavPlayer automatic video switching.

Support for 360-degree and VR video playback.

Compatibility and Support
We adopt standard media delivery protocols (MPEG-DASH and HLS) for high compatibility.

Our platform encodes your video flows using only efficient and widely adopted codecs.

Our web services are built to be compatible with all major platforms and all modern browsers (Chrome, Firefox, Safari, Edge).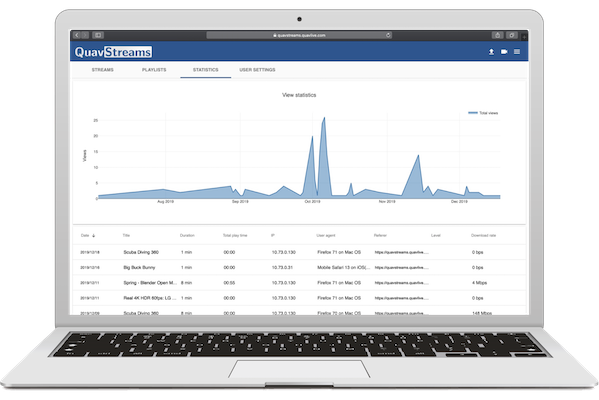 Collect viewing stats and other relevant data.

Understand your audience and content.

Discover insights about your videos.

Monitor your live-streams in real-time.

See how your content is performing on desktop and mobile platforms.

Make strategic decisions from observed video trends and activity.
QuavStreams is simply your best option. Here's why.
QuavStreams is the only video streaming platform that addresses live, on-demand, and real-time streaming of high-quality videos over the Internet in a single, fully integrated and scalable solution. It is built to be flexible and modular according to your needs. See how it stacks up against the competition.
Comparison grid

QuavStreams

Wowza

Bitmovin

YouTube

Facebook

LiveStream

UStream

Vimeo

Hangouts

Blue Jeans

Ubicast

Kaltura

Streaming

Live

⬤




⬤




⬤




⬤




⬤




⬤

⬤




◯

⬤

⬤

◯

⬤




DVR

⬤

⬤




⬤




⬤




⬤




⬤




⬤




◯

⬤




⬤




◯

⬤




VOD

⬤

⬤




⬤




⬤

⬤




◯

◯

⬤




◯

◯

⬤


⬤




HLS / DASH

⬤




⬤




⬤




⬤




⬤




⬤




⬤




⬤

◯

⬤

?


⬤




Real Time Streaming

⬤




⬤




◯

◯

◯

◯

◯

◯

◯

◯

?


◯

RTMP ingest

⬤




⬤




⬤




⬤




⬤




⬤




⬤




◯

◯

◯

?


⬤




RTSP ingest

◯ in progress




⬤




⬤




◯

◯

◯

◯

◯

◯

◯

?


?


Playlists

⬤




◯

◯

⬤




◯




⬤




⬤




⬤

◯

◯




?




?




Video tagging

⬤




◯

◯

⬤




◯




◯




◯




◯




◯




◯




⬤




⬤




Video Editor

◯ in progress




◯

◯

⬤




◯




◯




◯




◯




◯




◯




⬤




⬤




Analytics

⬤

◯

⬤




⬤




⬤




⬤




⬤




⬤




◯




⬤




?




⬤




DRM

⬤

⬤




⬤




⬤




◯

◯

◯

◯

◯

◯

?


⬤




Monetization

◯ in progress




◯

◯

⬤




◯

◯

◯

⬤




◯

◯

◯

⬤




360° panoramic video

⬤

⬤




⬤




⬤




⬤




?


?


⬤




◯

◯

?


?


Multi-camera viewpoints

⬤

◯

◯

⬤




◯

◯

◯

◯

◯

◯

?


?


Video Conference

Rooms

⬤




⬤




◯

◯

◯

◯

◯

◯

⬤




⬤




◯

◯

Screen sharing

⬤




⬤

◯

◯

◯

◯

◯

◯

⬤




⬤




◯

◯

Room live streaming

⬤




⬤




◯

◯

◯

◯

◯

◯

⬤ on YouTube




⬤




◯

◯

Room DVR

⬤




⬤




◯

◯

◯

◯

◯

◯

⬤ on YouTube




⬤




◯

◯

SIP support

⬤




◯

◯

◯

◯

◯

◯

◯

◯

⬤




◯

◯

User Interface

Public web interface

⬤




◯

◯

⬤




⬤

⬤

⬤

⬤

⬤

◯

?




?

Admin dashboard

⬤




◯

⬤




⬤




⬤




⬤




⬤




⬤




⬤




⬤




⬤

⬤




API

⬤




⬤




⬤




⬤




⬤




⬤




⬤




⬤

⬤

⬤




?


⬤




SAML Login

⬤




◯

◯

◯

◯

◯

◯

◯

◯

⬤




◯

◯

Deployment

Cloud service

⬤




⬤




⬤




◯

◯

⬤




⬤




⬤

◯

⬤




⬤




⬤




Local (on-premise) install

⬤

⬤




◯

◯

◯

◯

◯

◯

◯

◯

⬤




⬤




⬤=Allowed ◯=Not allowed